GenealogyBank has the largest collection of Hispanic American newspapers to explore Latino family ancestry online. Our extensive Hispanic American collection currently contains over 360 newspaper titles. This is an essential newspaper archive for genealogists, supplementing the other newspapers on our genealogy website and helping to make it one of the most comprehensive resources for Hispanic genealogical research online.
The oldest surviving Hispanic newspaper is El Misisipi, first published in New Orleans, Louisiana, in 1808. A masthead in Spanish from an 1808 issue of El Misisipi is featured below.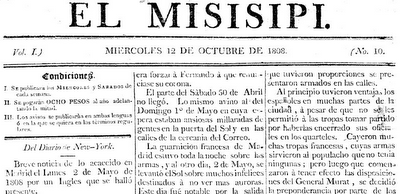 The newspapers in GenealogyBank's Hispanic American newspapers archive are a virtual goldmine to genealogists, providing a terrific resource for researching your Hispanic genealogy. You can easily search in every Hispanic newspaper issue online to find birth, marriage and obituary announcements, news reports about events that affected your Hispanic ancestors—even the vintage advertisements can be a helpful genealogical resource.

Here is a Hispanic American death notice in Spanish printed by the Bejareño (San Antonio, Texas) newspaper on 17 May 1856, page 2.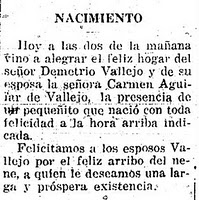 Here is a birth announcement en español printed by the Cronista del Valle (Brownsville, Texas) newspaper on 20 April 1925, page 1.
And here is a Latino marriage announcement in Spanish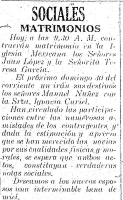 printed by the Amigo del Hogar (Indiana Harbour, Indiana) newspaper on 23 June 1929, page 1.

Did your Hispanic American family run a business? Look for their ads in the local Latino newspapers to get a glimpse into the lives they led. The following Hispanic newspaper ads were printed by the Cronista del Valle (Brownsville, Texas) newspaper on 20 April 1925, page 5
.

As these Latino birth, death and marriage announcements have shown, the Hispanic American newspapers in GenealogyBank's historical newspaper archives are important to genealogists because of their editorial focus on covering the cultural, social, religious and personal news that was of high interest to the Hispanic American community.
Latino newspapers are also good at providing specific historical information that can aid in tracing your Hispanic family tree. These Hispanic newspapers tend to be especially good at covering community news and events, giving genealogists the opportunity to find information about their Hispanic ancestors interacting with their neighbors and participating at the local level—stories that don't appear in censuses and other government records, providing personal details about your ancestors' lives.
(Visited 281 times, 1 visits today)