We heard you.
A number of our GenealogyBank members have written us and requested some new features to make it easier to search for your ancestors by a specific date or date range. We are pleased to announce that these new date genealogy search tools are now live on GenealogyBank.
These enhanced date searching features include multiple options to narrow down your family search.

Search the Date Range Your Ancestor Lived
With the "Date Range" button checked, you can search a range of years of genealogy records.
This is the most common search on GenealogyBank.
You will want to use this option to narrow down your search to the time period your target ancestor lived.
This genealogy search tool is also handy for limiting the number of records so that you can thoroughly review all search results in manageable increments.
Search a Specific Date
Notice that you can check the "Date" search radio button and it opens up more options for you to fine-tune your ancestor search.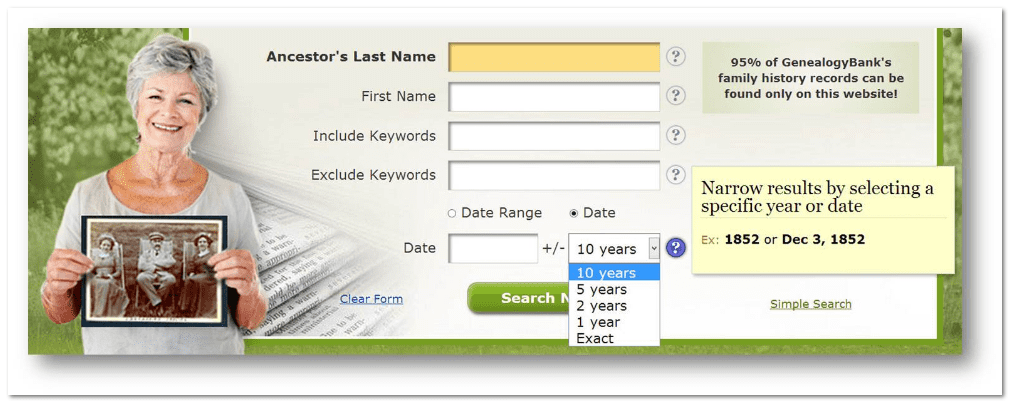 If you enter a specific date or year in the Date box, a pop-up menu gives you a number of search choices. The default search is for +/- 10 years of the date you entered. If you click on the blue check mark next to this option, these other choices pop up for you to select (+/-):
5 years
2 years
1 year
Exact
You can enter the date you want to search for in a number of ways. For example, you may search for:
1842
January 1842
Jan 18, 1842
Be as precise as you want to be in your date search criteria. This feature can save you loads of time while searching for genealogy records in a specific time period.
Sometimes you are not sure of the exact date an event took place; in that case, you can simply enter the year.
Perhaps you want to browse through all of the issues of a newspaper for October 1878. Now, it is easy to do that.
Or search for your ancestors on an exact date in history.
In Colonial America it was common for an obituary to appear weeks after a person died. Perhaps there were articles about an accident, extended illness or the gathering of family members. There may have been other articles about an engagement, plans for the coming marriage, the marriage itself, and then the honeymoon. Simply plug in the specific date or year of the event you're interested in and ask GenealogyBank to search all articles in both directions: the time leading up to and after the event.
These handy new date genealogy search tools will save you huge amounts of time and focus your ancestor searches.
It's a great day for genealogy!