Introduction: In this article, Melissa Davenport Berry writes about the peculiar burial of an eccentric named Reuben John Smith in Amesbury, Massachusetts, in 1899. Melissa is a genealogist who has a blog, AnceStory Archives, and a Facebook group, New England Family Genealogy and History.
Note: The genealogies of the townspeople involved in this story are provided at the end of the article.
Reuben John Smith arrived in the town of Amesbury, Massachusetts, around 1867. The census and his death certificate record his former residence in Buffalo, New York. Apparently not a wealthy man, he lived on Main Street in a boarding house and passed his leisure time reading the evening paper. Nothing seemed eccentric about him – until he died.
He spoke of a sister, but never revealed her name. His birth parents and origin remain a mystery – but not as great a mystery as the unusual and expensive way Reuben John Smith was buried.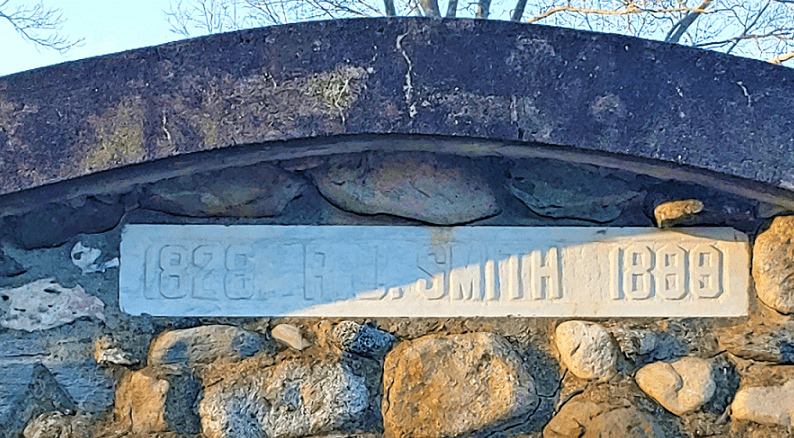 Reuben led a simple, uneventful life until the day of his funeral in 1899. It was the story of his burial at Mount Prospect Street Cemetery that caused reporters to descend upon the little village in numbers never seen before. Reuben was put to rest in a costly marble sarcophagus, seated on a reclining, custom made oak chair, with a table to hold his pipe, newspaper, and checkerboard. He sported a fine black suit and felt hat. More than 2,000 people came to witness his burial, and thousands more have visited the grave since that day.
When he died, Reuben's embalmed body was transported in his chair from his second-floor boarding house, placed on an express wagon drawn by two black horses, and traveled via Market Square and down Elm Street to the cemetery. The consensus among the townsfolk was that Reuben "looked quite natural."
After the last funeral attendee viewed Reuben's corpse in his chair, the tomb was sealed, the iron door shut, and the key – under Reuben's order – was disposed of.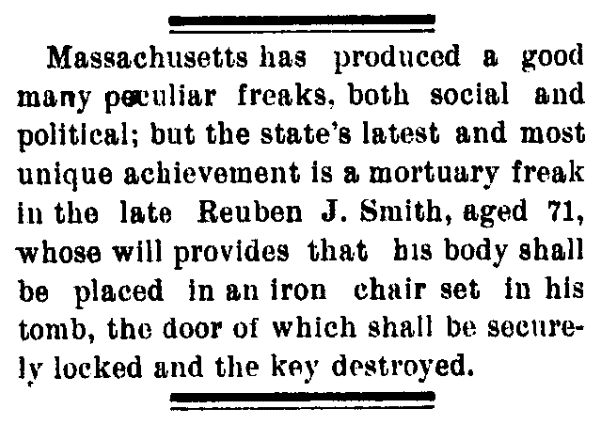 The big question is: where did Reuben get his money for this strange and costly burial? He was a man who was known to do "odd jobs" about town and could only afford to live in a boarding house – yet his funeral spared no expense. Reporters and the public were mystified.
The press was equally intrigued to learn how Reuben orchestrated the erection of his tomb months before his death.
According to newspaper reports, Reuben arranged every detail. He purchased a grave lot in July of 1898 for $40. Charles Davis of Patten Hollow Marble & Granite Works provided the materials to build the tomb. The marble was ordered from Vermont Marble Company and came from Rutland, Vermont. William Clark, a mason, was hired as the builder and the floor was laid by Portland Cement Company.
Harrison Auston was hired as the undertaker and Rev. Joseph Lambert was chosen to preside over the burial service.
Reuben purchased his burial chair from Ralph Bailey's store in Amesbury, and his new black suit from Nathan Emery Collins' clothing store. He made David Longfellow Bartlett his executor and set aside $500 in an account at the Provident Institute for Savings to maintain his grace site. Reuben also set aside a hefty sum for any female who would be willing to spend a night with his corpse in the tomb, but no one came forward.
Rueben named his pall bearers: Joseph Oliver Stearns, Percy Graham Brown, Sylvester Hiram Wiggin, and Albert Perkins Swett.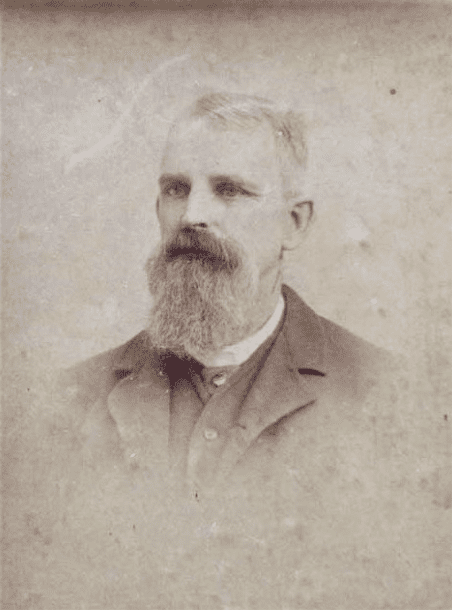 Joseph Oliver Stearns recorded Reuben's death and his role as pallbearer in his diary, which his great-great granddaughter Ruthie Stearns shared with me.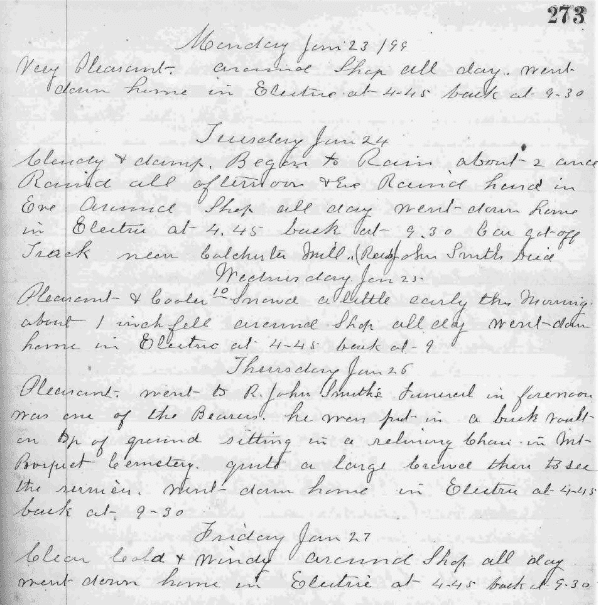 Joseph was in the painting business with his father-in-law John Dennett, and the firm was located at 8 Mills in Amesbury. Joseph, like Reuben, enjoyed his solitude. The other pallbearers were of the same temperament. Perhaps Reuben became acquainted with them through his many vocations.
According to Ned Brown's column "Cabbage and Kings" in the Amesbury Daily News (1962), while Reuben's grave was under construction it was a source of Sunday entertainment, and many gathered around the erected shrine to enjoy a picnic. Reuben himself visited and sat quietly in a chair watching the work. Brown also noted that schools were closed the day of Reuben's funeral.
The drama did not end once Reuben was left locked away for eternity. The mystery grew with Reuben's will, as seen below from a Boston Herald newspaper clipping.
In his will, Reuben made no mention of a next of kin, and bequeathed a mere 5 cents to Amesbury merchant Charles Washington Sawyer.
That "Five-Cent Legacy" to an Amesbury merchant caught the eye of newspaper editors far beyond Massachusetts. For example, this Ohio paper reported:
"It is said that the merchant and Mr. Smith quarreled many years ago and never spoke to each other again, and the bequest of 5 cents was left to show that Mr. Smith entertained no hard feeling against the merchant at the time of his death."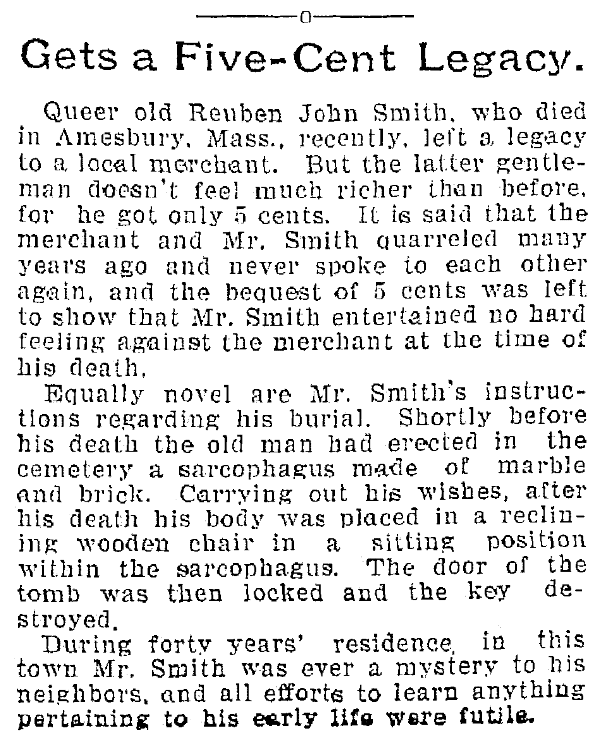 The postmaster, Cyrus Rowell, received tin types and letters regarding Reuben after his funeral. Some claimed they were related, while others gave clues to his life. I am following up on these claims posted in the newspaper.
One local legend tells of a paper boy who dropped off the evening news outside Reuben's tomb every night, and his ghostly hand reached outside the tomb to snatch it. Reuben's chuckle was heard through the town.
Please leave a comment if you have any information regarding Reuben John Smith. I will follow up as I continue to investigate this mystery.
My thanks to: Ruthie Stearns of Wisconsin; Ron Guilmette (author of First to Serve) of Salisbury, Massachusetts; and James Scammon, genealogist from New Hampshire.
Note: Just as an online collection of newspapers, such as GenealogyBank's Historical Newspaper Archives, told the stories of Reuben John Smith's burial, they can tell you stories about your ancestors that can't be found anywhere else. Come look today and see what you can discover!
Resources:
Note: Many of the families in the following genealogy are found in this autograph book: Heirlooms Reunited.
Genealogy:
Reuben John Smith (1828-1899), origin and family unknown.
Joseph Oliver Stearns (1838-1917), son of Charles Oliver Stearns (1813-1906) and Adeline Eastman (1813-1893), married Helen Louis "Nell" Dennett (1843-1874), daughter of John Dennett (1811-1891) and Louisa Frost (1818-1897).
Albert Perkins Swett (1847-1905), son of Jethro Swett (1811-1876) and Sarah Perkins (1808-1871), married Susan Lurvey Morrill (1847-1901), daughter of James Lurvey Morrill and Abigail Smith Evans.
Sylvester Hiram Wiggin (1848-1943), son of Hiram Wiggin (1804-1875) and Mary Smith Huntress (1816-1856), married Caroline Adella Crowell (1858-1942), daughter of Andrew Jackson Crowell (1832-1882) and Lucy Ellen Titus (1836-1882).
Percy Graham Brown (1868-1945), son of John Brown (1833-1923) and Mary Robinson (1841-1919) of Hampton Falls, New Hampshire. Percy was listed in the Amesbury Census as a boarder on Main Street whose occupation was painter.
David Longfellow Bartlett (1827-1919), son of Jonathan Bartlett (1880-1852) and Love Laskey (1789-1884), married 1st Elizabeth Cushing French (1830-1894), daughter of Moses French (1790-1857) and Hannah Moody (1788-1872), and 2nd Susan Elizabeth Fairfield, daughter of Albert L. Fifield (1815-1867) and Caroline Paul (1815-1867).
Charles Washington Sawyer (1831-1916), son of John Sawyer (1788-1869) and Hannah Sargent (1803-1877), married Sarah Clark (1835-1909), daughter of Rev. Caleb Clark and Elise Bradley. Charles is listed in 1870 as a Carriage Maker and member of Saggahew Masonic Lodge.
Cyrus William Rowell (1848-1917), son of James Rowell (1808-1882) and Serena Flanders (1813-1873), married Liza Barnes (1851-1904), daughter of Captain John Barnes (1826-1868) and Liza Larkin (1828-1895).
Nathan Emery Collins (1847-1936), son of Oliver Collins (1821-1863) and Mary Page (1822-1890), married Caroline "Carrie" Elizabeth True (1848-1934). Nathan was the town clerk and owned a clothing store in Amesbury. He is listed at 113 Main Street, Amesbury, MA, in the City Directory.
Harrison C. Austin (1868-1920), born in Amesbury, MA, to Horace Austin (1847-1895) and Annie J. Chadbourne (1842-1897), married N. Gertrude Currier (1873-1956), daughter of John Currier (1846-1924) and Ellen R. Longfellow (1845-1923). Harrison lived among the Shaker community in Canterbury, New Hampshire, and returned to Amesbury when he was 18. He worked in many shops in the community, and in 1897 he went into business as undertaker. He was a Grand Master Mason of Warren Lodge in Amesbury and joined other lodges as well. "Proceedings of the Most Worshipful Grand Lodge of Ancient Free and Accepted Masons of the Commonwealth of Massachusetts, 1924." P. 266.
Ralph Origen Bailey (1849-1924), son of Orlando Sargent Bailey (1818-1894) and Mary Gove (1815-1892), married the widow of John H. Hill, Hannah Matilda Trussell (1834-1914), daughter of John Lurvey Trussell (1880-1888) and Hannah S. Goodwin (1802-1884). Ralph worked in a carriage shop when he was young. In 1884 he formed a partnership with Benjamin L. Fifield and opened a furniture store in Amesbury. He was the Collector of Taxes and Probation Officer for the Second Essex District.