John and Jane Q. Public have been petitioning Congress for all types of reasons for over 200 years. The reason for each request may vary – but Congress considered every request.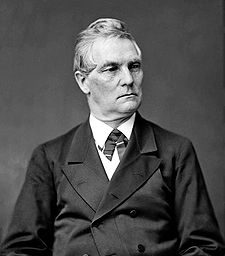 In 1880 the Senate, presided over by William A. Wheeler (1819-1887), authorized the publication of the List of Private Claims – that listed all claims brought before the Senate from 4 March 1815 to 3 March 1881. The list was so long – 2,056 pages – that the Senate published it in two volumes. This list is in GenealogyBank.

(Photo of William A. Williams, Library of Congress, digital ID cwpbh.03976)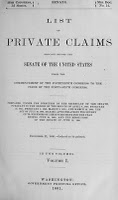 The full title describes it: List of private claims brought before the Senate of the United States from the commencement of the Fourteenth Congress to the close of the Forty-sixth Congress. Prepared under the direction of the Secretary of the Senate, pursuant to the orders of the Senate of April 9, 1840; February 27, 1841; February 8, 1849; March 3, 1855; and March 16, 1866; the act of July 20, 1868, making appropriations for sundry civil expenses of the government for the year ending June 30, 1869; and the resolution of the Senate of June 16, 1880. December 21, 1880.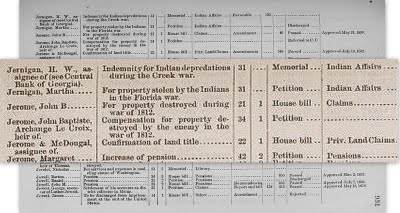 In these typical examples from volume 1, page 931 we see that:
H.W. Jernigan of Georgia had petitioned the Indian Affairs Committee for "Indemnity for Indian deprivations during the Creek War"
Martha Jernigan petitioned "For property stolen by the Indians in the Florida War"
John B. Jerome petitioned "For property destroyed during the War of 1812"
Jerome & McDougal – petitioned for the "Confirmation of land title"
Margaret Jerome petitioned for an "Increase of pension"
James Jewett petitioned to be released from prison.
Some were "passed" as John B. Jerome's request and others, like James Jewett's request were rejected.
You may search these volumes on GenealogyBank:

List of Private Claims ….. (1880/1881) – Volume One
List of Private Claims ….. (1880/1881) – Volume Two
Discover your heritage, preserve it and pass it on!
Be a part of GenealogyBank – Sign up Now.
Find and document your ancestors in GenealogyBank
(Visited 16 times, 1 visits today)