This week the nation is remembering Julia Child – how much she contributed to our lives and how much fun she was to be with – via her books, newspaper columns, TV Show – The French Chef and interviews.
Julia Child was born Julia Carolyn McWilliams – this week – August 15, 1912 in Pasadena, California and died this week – August 13, 2004 in Montecido, California. She married Paul Cushing Child over a long Labor Day weekend – 1 September 1946. She had met Paul Child while stationed in Sri Lanka with the OSS during World War II. The OSS is now known as the CIA. For her life's work she received the Presidential Medal of Freedom from President George W. Bush in 2003. She was 92 years old.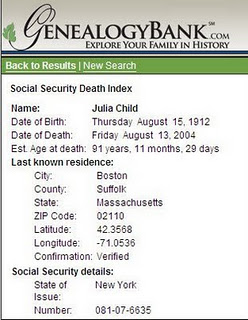 She is celebrated in Meryl Streep's new movie – Julie & Julia
and she is
in GenealogyBank too – from her numerous recipes; articles about her books & TV series; numerous obituries published in newspapers across the country and her death record in the SSDI.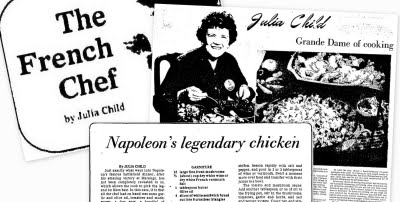 .
(Visited 15 times, 1 visits today)