Irish American immigrants cut loose from the familiar surroundings of home were always hungry for the latest news from the old country, as well as news of their former neighbors now spread across the United States.
Irish American newspapers helped fill this need, and were subscribed to by Irish Americans across the U.S. and Canada…and these newspapers delivered the news their readers wanted.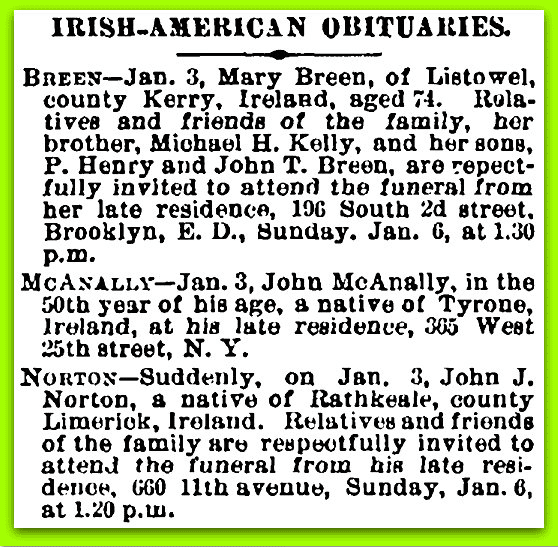 These Irish American newspapers give us great genealogical details like the name of the townland and county in Ireland where the person was born.
In the above Irish American obituaries, we have Mary Breen of Listowel, County Kerry, Ireland; John McAnally of County Tyrone, Ireland; and John J. Norton of Rathkeale, County Limerick, Ireland. It's almost impossible to find the townland and county information in other genealogy sources. Almost all records generated in the U.S. simply say "Ireland."
The availability of this critical information is why Irish American genealogists are so focused on the old Irish American newspapers.
Imagine if the obituaries simply said that Mary Breen, John McAnally and John J. Norton were born in "Ireland." Readers of Irish American newspapers expected more information than that—and they got it.
For example, the Irish American Weekly devoted an entire page to news from every county in Ireland.
News, obituaries, marriages in Ireland—they're all recorded on these pages.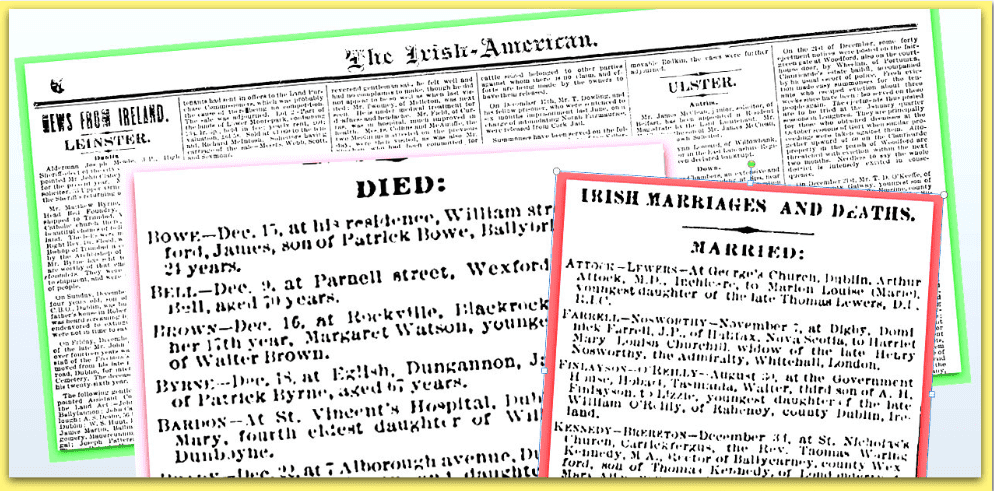 But wait—there's more.
For example: there are passenger lists from Ireland to America in these Irish American newspapers.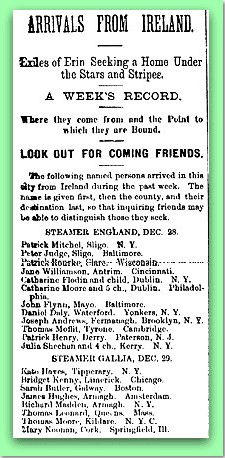 These Irish passenger lists were very popular—they assisted the readers, as the above headline suggests, to "Look Out for Coming Friends."
The level of detail provided by these old newspaper passenger lists is important since the immigrant's home county and destination in the United States is not recorded in the federal passenger lists that genealogists routinely consult.
These Irish American newspapers are the only source for these detailed passenger lists.
Irish American newspapers are invaluable for tracing your Irish ancestry and GenealogyBank has them!
Start searching our special Irish American newspaper archives to discover your Irish roots now.
Please note that each one of these Irish American newspapers was published in New York City, but their circulation extended around the country and up into Canada.
Feel free to redistribute our Irish American newspaper archives list on your website or blog using the embed code below.