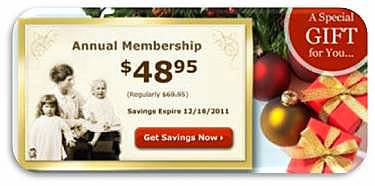 Give yourself the gift of a subscription to GenealogyBank to help with all your family history research—and right now we are offering our best price ever of $48.95 for an annual membership. Click now: This special Holiday offer is good for three days—today through Friday, Dec. 16—so act now!
GenealogyBank has more than 5,850 newspapers available online, from 1690 to today, from all 50 states—and over 95% of that content is not available anywhere else.
Our genealogy site also offers the Social Security Death Index and millions of historical books, documents and government records.
Our genealogy site is dynamic and growing daily, as we continuously add new content. In January 2010 GenealogyBank had 421 million records. Now, almost two years later, we have 1.1 billion records to help genealogists do in-depth family history research.
Did you realize that GenealogyBank now has beautiful historical maps—over 72,000 of them?
These historical maps are gems in our Historical Documents collection.
Look at these great vintage maps, like this example showing land ownership and property lines along with the local cemetery in Edgewater, New Jersey, in 1898.


Or this stunning old cemetery map of Palermo, Italy, that clearly shows the cemeteries as they existed in 1887.

Look at the detail in this historical 1863 Civil War map of the Siege of Vicksburg, showing the battle zone between Miliken's Bend, Louisiana, and Jackson, Mississippi.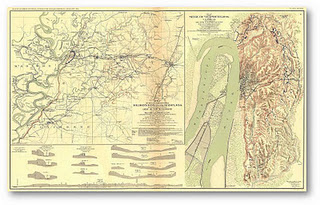 The Siege of Vicksburg lasted from May 18 to July 4, 1863.
Give yourself the best genealogy gift this holiday season—give yourself GenealogyBank.com
(Visited 80 times, 1 visits today)