GenealogyBank has Cleveland, Ohio, newspapers online, dating back to 1845 and right up to today, to help you with your family research in "The Buckeye State." That is more than a century and a half of content to help you uncover your family history and discover interesting facts about Cleveland's past! Research thousands old news articles, obituaries, pictures and more to trace back your ancestry.
"The Forest City" was settled in 1796 and incorporated in 1814. Wherever American settlers went newspapers were sure to follow, and the Cleveland Plain Dealer's first issue rolled off the press on 7 April 1845.

Here is a quick list to help you research your genealogy in the back files of Cleveland's historical newspapers online:
GenealogyBank has two search pages for Cleveland newspapers, one for its "Newspaper Archives" collection and one for "Recent Obituaries."
Here is a link to the search page for the Cleveland digital newspaper archives, dating from 1845-1991: Cleveland Newspaper Archives.
Here is a link to the Cleveland recent obituaries archives, dating from 1991-today: Cleveland Recent Obituaries.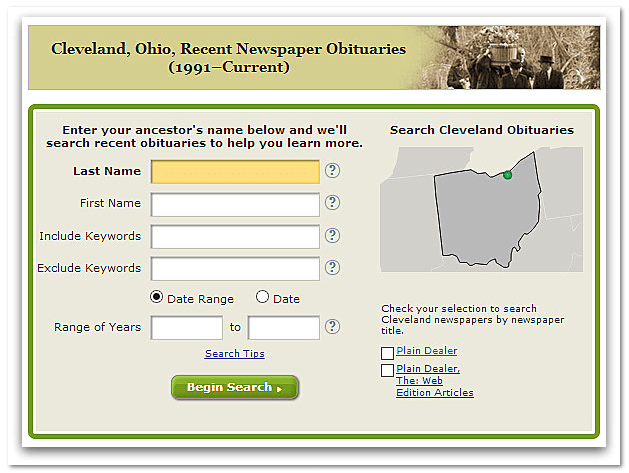 (Visited 674 times, 1 visits today)