Heber Springs, Arkansas, may be only seven square miles in size and have a population just a little more than 7,000, but this small town is big enough to have its own newspaper, the "Jacksonian"—and GenealogyBank has it available online to help with your family history searches in "The Natural State."
The newspaper articles and obituaries in these historical small town newspapers often give genealogical details not usually found in the big city newspapers.
For example, let's look at the wealth of family history detail found in Mary A. (Gennoe) Moore's obituary.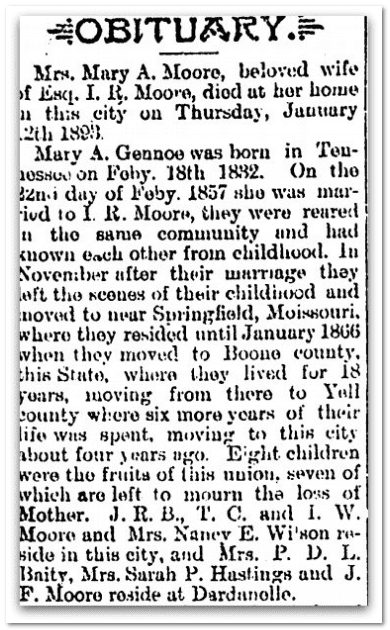 From this old obituary we learn these vital statistics:
Name: Mary A. Moore
Maiden name: Gennoe
Date of death: Thursday, 12 January 1893
Place of death: at her home in Heber Springs, Arkansas
Date of birth: 18 February 1832
Birthplace: Tennessee
Husband: I. R. Moore
Date of marriage: 22 February 1857
We also learn the following personal details about her life:
Both she and her husband grew up in the same community
They had known each other since childhood
In November 1857 the married couple moved near Springfield, Missouri
In January 1866 they moved to Boone County, Arkansas
In 1884 they moved to Yell County, Arkansas
Around 1889 they moved to Heber Springs, Arkansas
They had eight children, seven of whom survived Mary
Children: J. R. B., T. C., and I. W. Moore, and Mrs. Nancy E. Wilson lived in Heber Springs
Children: Mrs. P. D. L. Baity, Mrs. Sarah P. Hastings, and J. F. Moore lived in Dardanelle
The rest of this old obituary described the funeral and the deep feelings everyone in this small community had for "Grandma Moore."
Where else but in newspapers can we find this much detail about the lives of our ancestors?
Sure—we probably have the tradition passed down that they were born in Tennessee, and later moved to Heber Springs. But, would we know that they also lived in Springfield, Boone County and Yell County? Would we know the dates of Mary's birth and marriage, or the names and places of residence of her seven surviving children?
So much family history information in just one historical obituary!
Find and document your family's history in GenealogyBank's newspaper archives. Preserve and pass down the information to the rising generation.
Find out the details of your ancestors' lives by searching this old Heber Springs newspaper online. Search the Jacksonian newspaper archive now.