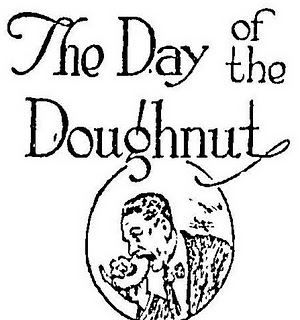 My days of eating doughnuts are long gone – but it was 70 years ago that the first Friday in June was designated National Doughnut Day!

Captain Hanson Gregory (1831-) of Camden,
Maine
gets the credit for inventing the modern doughnut – or at least the hole.
He was a ship's cook at age 16 in 1847 – when he experimented with ideas to solve the problem of the uncooked centers of doughnuts.
It was verified
in a Wrigley chewing gum cartoon strip "Fun Facts" illustrated here (see above) from the Dallas Morning News Feb 7, 1971. and it was often repeated in news accounts like this humorous one that appeared in the Kansas City Times Jan 11, 1920
.
You can search
GenealogyBank
for millions of articles from over 3,500 newspapers – find over 1 billion of your ancestors and discover the details of their lives…
…even the old recipes for making doughnuts.
Sign up now
and ask your friends to join with us in bringing more records online – It's only $9.95 –
click here
.
Anna Barrows, Boston YWCA Lecturer on Cookery, wrote a terrific article giving multiple recipes for doughnuts. I have inserted this article from the
Philadelphia Inquirer Feb 18, 1894
.
Click Here
to see a larger version.
Let's celebrate the day and use the old recipes to prepare some homemade doughnuts.

Happy National Doughnut Day!