Ever wanted a quick course on getting the most out of GenealogyBank?
Now you can do that.
Join us online Monday, December 19th at 8:00 p.m. (EST), as Tom Kemp—GenealogyBank's Director of Genealogy Products—gives a free webinar:
"Using GenealogyBank.com Effectively and Efficiently"
This free one-hour webinar is sponsored by the Georgia Genealogical Society.
Learn how to navigate the 5,850+ newspapers and over 1 billion records on GenealogyBank.
Genealogists, family historians and hobbyists are invited to attend this complimentary webinar while Tom shows the best approaches to using GenealogyBank. He will explain what family history information you can find on our genealogy site, and answer your questions. Sign up today to ensure your seat at the free webinar now: http://bit.ly/rQQpaQ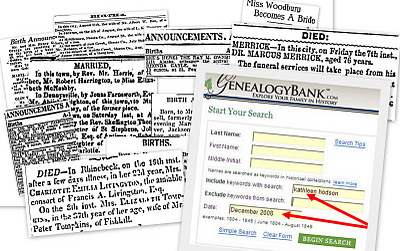 (Visited 8 times, 1 visits today)