Today is Veteran's Day – I have many ancestors and cousins that served – from the days of the Colonial militia, the Revolutionary War, War of 1812 right up to today. In fact my brother and I joined the Navy when we were 17 – but that was a long time ago.
With Veteran's Day in mind I started looking at the many resources in GenealogyBank for researching our family members that served in the military.
The Historical Documents section of GenealogyBank now has over 226,000 documents – it is packed with military records.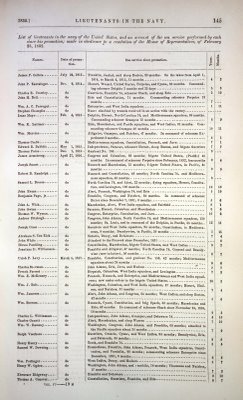 For example – here is one page from the published list of all lieutenants serving in the US Navy – as of 1832. The list gives their names; dates of appointment; ships they served on etc.
(US Congress. American State Papers. List of lieutenants in the Navy in 1832, and the sea service performed by each since his promotion. Communicated to the House of Representatives, June 16, 1832. American State Papers. 026, Naval Affairs Vol. 4; 22nd Congress, 1st Session Publication No. 483).
I decided to pick a name at random from this list just to see what else I could find out about him.
I selected John P. Zantzinger.

I quickly found that he was listed in multiple documents – the ships he served on – his rejected pay increase request for serving off the coast of Brazil – and other interesting details of his career.
Turning to the Historical Newspapers I found even more.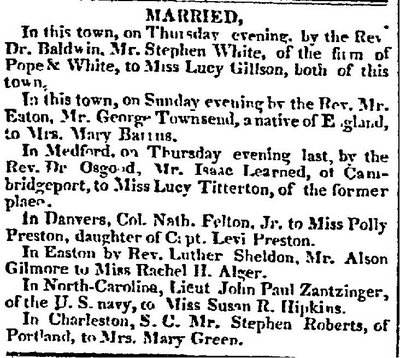 I found his marriage to Susan R. Hipkins – recorded in the Massachusetts newspaper, the
Columbia Centennial
(21 March 1821) even though they were married in North Carolina!
This article also filled in another detail – that his middle name was: Paul.
Then I found the sad news that 25 years later his wife died at Fauquier White Sulpher Springs, VA – an area then well known for the "restorative" powers of its natural sulpher springs.
Note that her obituary was published in the New London (CT) Morning News 18 Sep 1846 – even though her death occurred in Virginia.
TIP: Remember – a newspaper from across the country might have printed your ancestor's marriage announcement or obituary. Don't limit your search to just the newspapers in one state.
In all I found more than 1,500 records for Zantzinger.
GenealogyBank
– makes it easy to search over 243 million records and documents for our ancestors.
Give it a try right now.
Get unlimited access for 30 days!
Tell your friends!
Discover Your Family Story.
GenealogyBank
sheds new light on the daily lives and communities of millions of American families from 1690 to today. With more than 3,700 newspapers and other core documents from all 50 states, you'll find not only your ancestor's names, dates, places and events, but also learn about their everyday challenges and the events that defined their lives.
Special 30 day introductory offer only $9.95.
Pay just $9.95 for full access to
GenealogyBank
for 30 days.You may also choose one of two membership package options:
or
Change your mind and want to cancel simply call us at 800-243-7694 before your trial ends and you still only pay $9.95.
Hurry – this offer ends TODAY – Tuesday, November 11th!