I was excited to see that GenealogyBank has just added over 100 historical newspapers new to its collection – expanding content in all 50 states. We've added over 13 million family records from 1803-1901.
Click here to see a list of these newly-added newspapers included in our overall monthly update list, or see the end of this article for a list of just these newly-added historical titles. Wow!
I found this article in the New Hampshire Statesman, one of the newspapers just added to GenealogyBank. It says that Gideon O. Dixon was "expelled" from the Macdonough Lodge in Essex, Chittenden County, Vermont, on "January 10th, 5827."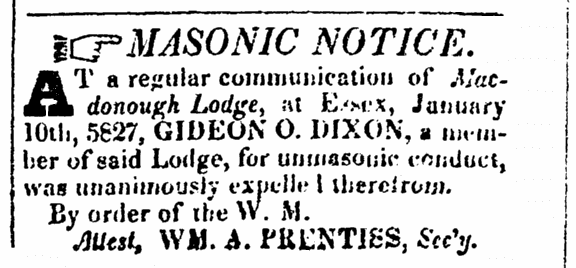 What was that year again?
5827?
I quickly realized that must be a Masonic dating device that would add to the air of mystery that surrounds Masonry. Looking at Wikipedia, I found that "Anno Lucis (in the Year of Light) is a dating system used in Masonic ceremonial or commemorative proceedings, which is equivalent to the Gregorian year plus 4,000."
Interesting.
I had never heard of that before.
GenealogyBank is constantly adding more newspapers and filling in the gaps in newspaper runs that are already in our online collection.
Wow – it's a great day for genealogy! Thank you GenealogyBank for constantly adding more and more newspapers.
Here is a list of the historical newspapers new to GenealogyBank's collection: