This is an interesting free Microsoft site: https://how-old.net/
You point it to any photograph and it will instantly estimate the age of each person in the photo.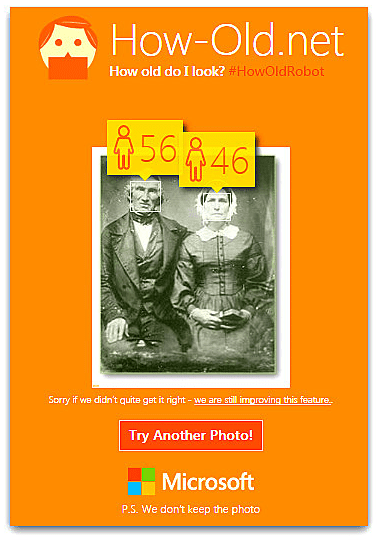 I decided to give it a try using an old photo of my 3rd great-grandparents. The photo app automatically estimated their ages: 56 and 46.
How did it do?
Robert Starbird (1782-1870) and Abigail (Haskell) Starbird (1803-1861) were married in August 1828 in Gray, Maine. This was his second marriage.
The How Old Do I Look? site estimated there was a 10-year gap in their ages – but the gap in their ages was actually 21 years.
Looking at this photo, I could imagine that they were each in their 50's or 40's respectively.
According to the Maine Historical Society, the early period of photographs of Maine residents and scenes dates from about 1840 to 1870. See: https://www.mainehistory.org/museum_past_EarlyPhoto.shtml
My 3rd great-grandparents married in August 1828 and she died in 1861 – so this photograph was likely taken sometime between 1840 and 1861.
If it was taken in 1840, he would have been 58 in that year and she was 37.
I tried an undated photograph of Thomas Edison that was published in one of GenealogyBank's old newspapers: the Oregonian (Portland, Oregon), 18 October 1896. The photograph appears to have been taken late in his life.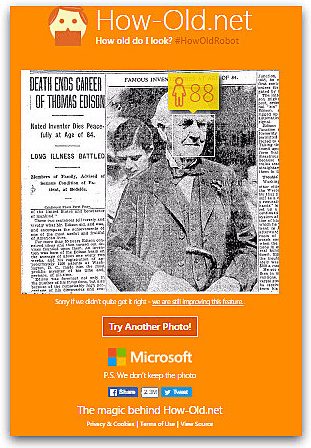 Thomas Edison was 84 when he died and the How Old Do I Look? app pegs him at 88 years old in this photo. That's pretty close.
As the app says: "Sorry if we didn't quite get it right – we are still improving this feature."
Give it a try and see how it works for your family photos.
Related Articles: