Every day, GenealogyBank is working hard to digitize more U.S. newspapers and obituaries, expanding our online archives to give you the largest newspaper archives for family history research available on the web. We just completed adding 5 million more newspaper articles to the online archives, vastly increasing our news coverage of life in America from coast to coast!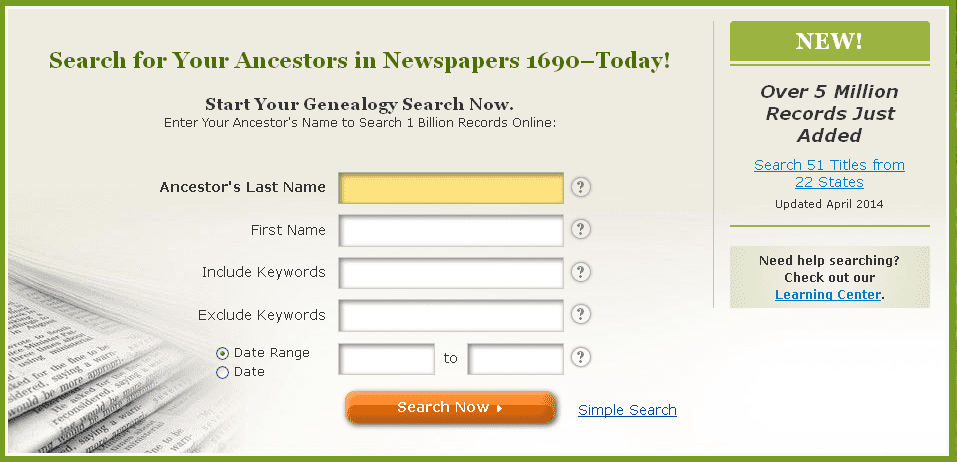 Here are some of the details about our most recent U.S. newspaper additions:
A total of 51 newspaper titles from 22 U.S. states, with many newspaper additions from Illinois, New York and Pennsylvania
25 of these titles are newspapers added to GenealogyBank for the first time
Newspaper titles marked with an asterisk (*) are new to our online archives. Note that many of these totally new archive additions are German American newspapers.
We've shown the newspaper issue date ranges so that you can determine if the newly added content is relevant to your personal genealogy research. Note that some of these newly added newspapers date back to the mid-1800s.
To see our newspaper archives' complete title lists, click here.
State  City  Title  Date Range
AL Mobile Alabama Staats-Zeitung 1/10/1900 – 10/11/1902
AZ San Manuel Pinal Nugget* 3/5/2013 – Current
CA Riverside Riverside Daily Press 10/1/1938 – 12/31/1945
CA San Francisco California Chronik* 4/28/1866 – 11/3/1866
CA S. L. Obispo San Luis Obispo Daily Telegram 7/1/1915 – 9/30/1921
CT Bridgeport Connecticut Post 9/21/2001 – 6/30/2002
GA Atlanta Emory Wheel: Emory University* 8/25/2002 – Current
GA Augusta Augusta Chronicle 11/26/1983 – 11/22/2003
GA Columbus Columbus Daily Enquirer 2/25/1926 – 4/10/1930
GA Macon Macon Telegraph 11/6/1925 – 12/31/1928
ID Boise Idaho Statesman 2/16/1925 – 9/30/1927
IL Alton Telegraph* 1/1/2010 – Current
IL Belleville Belleviller Post und Zeitung* 1/11/1899 – 1/11/1899
IL Chicago Chicagoer Freie Presse* 2/6/1872 – 2/6/1872
IL Chicago D.A. Burgerzeitung* 12/30/1921 – 12/30/1921
IL Springfield Daily Illinois State Journal 8/1/1942 – 3/31/1950
IN Elkhart Elkhart Truth 1/2/1902 – 12/30/1920
IN Evansville Evansville Courier and Press 1/23/1936 – 12/31/1937
IA Davenport Wochentliche Demokrat* 1/2/1902 – 1/2/1902
KY Lexington Lexington Herald 11/1/1924 – 5/31/1927
MD Baltimore Katholische Volkszeitung* 2/10/1872 – 7/8/1876
MD Baltimore Sun 1/27/1916 – 3/4/1916
MA Boston Boston American 4/11/1952 – 9/30/1961
MA Boston Boston Herald 2/17/1974 – 9/28/1975
MA Springfield Springfield Republican 2/1/1853 – 9/2/1875
MI Detroit Herold* 4/14/1911 – 11/24/1911
NJ Woodbury Woodbury Daily Times 9/20/1900 – 3/16/1922
NY Binghamton Binghamton Univ. Pipe Dream* 11/1/2005 – Current
NY New York Jewish Messenger 7/3/1857 – 12/28/1883
NY New York New Yorker Volkszeitung 5/1/1919 – 12/31/1922
NY New York Sonntagsblatt Der NY Volkszeitung* 1/29/1928 – 1/29/1928
NY New York Sozialist* 4/11/1885 – 12/14/1889
NY New York Vorwarts 12/10/1892 – 7/29/1916
NC Charlotte Charlotte Observer 11/1/1924 – 3/31/1926
NC Greensboro Greensboro Record 10/11/1950 – 10/12/1950
NC Win.-Salem Winston-Salem Journal 10/1/1921 – 8/31/1927
OH Cincinnati Cincinnati Republikaner* 12/1/1858 – 3/23/1861
OH Columbus Lutherische Kirchenzeitung* 1/1/1910 – 1/1/1910
OH Englewood Englewood Independent* 10/23/2012 – Current
OH West Union People's Defender* 11/12/2013 – Current
PA Harrisburg Christlicher Botschafter* 1/3/1935 – 1/3/1935
PA Philadelphia Daily Pennsylvanian: U. of Penn.* 3/19/1991 – Current
PA Pittsburgh Volksblatt und Freiheits-freund* 11/3/1934 – 11/3/1934
PA Pittston Sunday Dispatch* 10/12/2013 – Current
PA State College Centre Daily Times 1/2/1973 – 11/29/1974
PA Wilkes-Barre Weekender* 10/8/2013 – Current
TX San Antonio Freie Presse fur Texas* 5/12/1915 – 5/12/1915
UT Salt Lake City Salt Lake City Beobachter* 4/6/1930 – 4/6/1930
WA Bellingham Bellingham Herald 1/1/1926 – 12/31/1928
WA Seattle Seattle Daily Times 4/2/1912 – 1/9/1916
WI La Crosse Nord Stern* 4/10/1908 – 4/10/1908
[bottom_post_ad]