Edwardsville Spectator Illinois Newspaper Archives (1819-1826) – live on GenealogyBank.

A good source for early Illinois obituaries!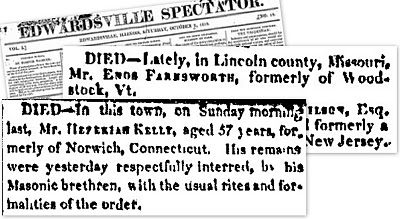 GenealogyBank is your best source for early American genealogical research – search thousands of early U.S. newspapers.

TIP: With so few records surviving from the 18th and 19th Century – these historical newspapers are often your only source for finding out where your ancestors were born or where they died.
.
(Visited 20 times, 1 visits today)