We are often asked if GenealogyBank includes newspapers published in other countries, such as Canada, various countries in Europe, or in the Americas. No, we don't.
But, there is a bright side.
U.S. newspapers routinely published news of marriages and deaths from overseas that they felt were of high interest to their U.S.-based readers. These were selective, so look to see if there were any news articles that targeted your relatives.
For example, look at this 1766 obituary from a Rhode Island newspaper.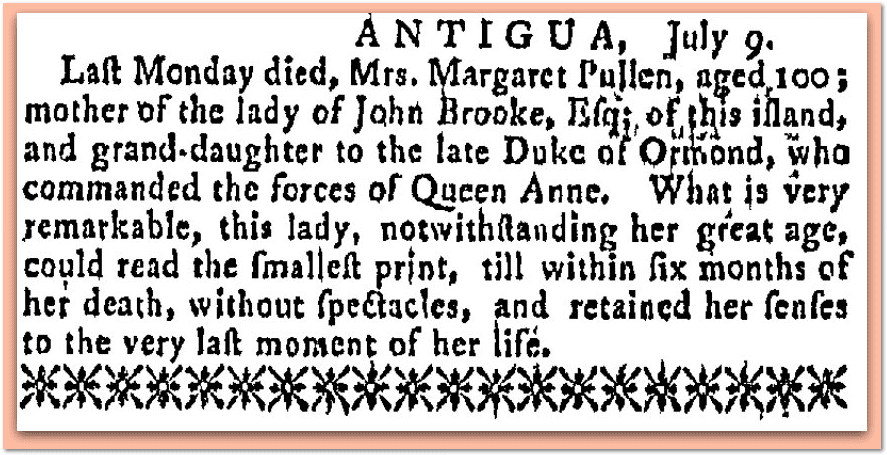 Newport, Rhode Island, is a seaport town that had many people involved in the sea. Because of this maritime involvement, news from the Caribbean islands was of high interest to the readers of Rhode Island newspapers like the Newport Mercury. This obituary of Mrs. Margaret Pullen, who died at age 100 in Antigua, would have been of interest in the Newport, RI, area—not only for her longevity and good health, but also because she was from the Caribbean, and for her family's support of Queen Anne (1665-1714) who had been popular in the colonies.
Here is another obituary from the island of Antigua that was published in a U.S. newspaper.
James Hutchison died 28 February 1788 a wealthy man. The obituary mentions that his sister Margaret of Paisley, Scotland, is the sole executrix of his will.
Publishing genealogy records from overseas is also common with ethnic U.S. newspapers like the Irish American Weekly (New York City, New York).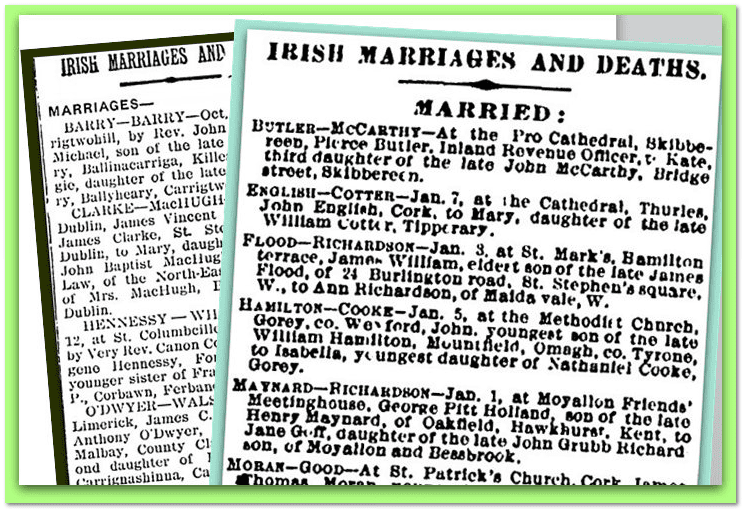 The Irish American Weekly routinely published news of marriages and deaths from back in Ireland. Did it capture every Irish marriage? No—but it did publish tens of thousands of Irish marriage announcements and death notices. It is essential that you look there and in the other Irish American newspapers in our online archives to discover the marriage and death records of your Irish ancestors.
There is also a wealth of genealogical material to research your Hispanic ancestry in our Hispanic American newspapers. Dig in and trace your family tree around the world now!
(Visited 82 times, 1 visits today)