The remarkable life and brilliant career of one of America's leading Founding Fathers, Alexander Hamilton, was cut short in the early morning hours of 11 July 1804 when he was shot in a duel with Aaron Burr, the sitting vice president of the United States.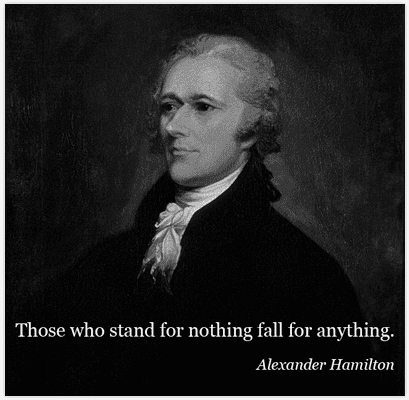 Although the men had been bitter political and personal enemies for years, the exact cause of their fatal disagreement—as well as the circumstances of the actual duel—remain vague and uncertain. What is indisputable is that Hamilton was struck in the lower abdomen and died around 2:00 p.m. the next day, robbing America of one of its keenest political and legal minds.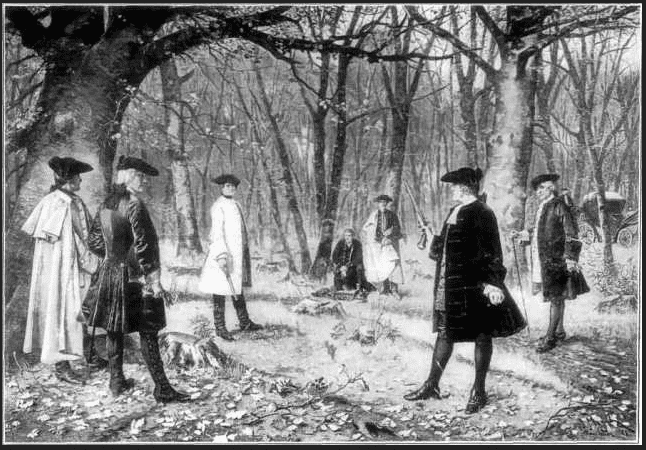 Alexander Hamilton (1757-1804)
Hamilton had been the senior aide-de-camp to General George Washington during the American Revolutionary War; Washington later rewarded his service by appointing Hamilton the nation's first Secretary of the Treasury. An economist and philosopher, Hamilton played a leading role in shaping the federal government during its formative years, and later became the leader of the Federalist Party. Other highlights of his career included being elected to the Continental Congress, founding the Bank of New York, and authoring many of the Federalist Papers. As is often the case with powerful and influential men, Hamilton had many admirers and supporters, and more than a few enemies—none more so than Aaron Burr.
Hamilton vs. Burr
The animosity between the two men began in 1791, when Burr won the Senate seat occupied by Hamilton's father-in-law, Philip Schuyler. In 1800, Hamilton played a key role in ensuring that the House of Representatives chose Thomas Jefferson as president instead of Burr, who had tied Jefferson in the Electoral College vote. Then, in 1804, Burr—knowing Jefferson would not favor him to continue as vice president—campaigned to become New York governor, but Hamilton again played a key role in his defeat, endorsing Burr's opponent and the eventual winner, Morgan Lewis. The sense of rivalry and disdain between Hamilton and Burr was sharp and did not need much of a spark to ignite into deadly conflict.
That spark came quickly after the New York election. Burr took offense at some remarks Hamilton allegedly had made during a dinner party and demanded an apology. What those exact remarks were is not certain, and Hamilton said he could not recall them and refused to apologize. Burr "demanded satisfaction" and a duel was arranged for the morning of 11 July 1804.
There were only two witnesses to the fatal duel, and they both turned their backs so that they could honestly say they saw no guns fired, and therefore not be implicated in the incident. Two shots rang out, although who fired first is uncertain. Hamilton had said the night before that he would deliberately miss Burr, and in fact his shot struck a tree above his opponent's head. Burr, however, did not miss—his bullet cut through Hamilton's internal organs and smashed into his spine, paralyzing him and leaving little doubt the wound was mortal. After much suffering, he died from the shot the next day.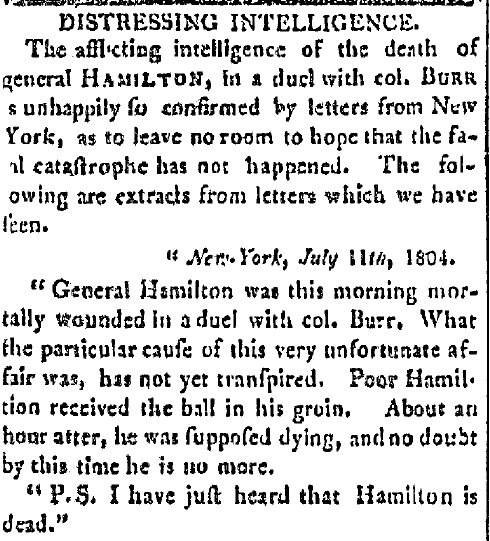 GenealogyBank's Historical Newspaper Archives are not only a great way to learn about the lives of your ancestors—they also help you understand the times your ancestors lived in, and the news they talked about and read in their local papers.
Related Articles:
[bottom_post_ad]
(Visited 1,107 times, 1 visits today)