GenealogyBank has added the Daily New Mexican (Santa Fe, NM) 1871-1887.

GenealogyBank has over 3,800 newspapers from all 50 States, going from 1690 to Today.
Search the Daily New Mexican for specific obituaries, marriage or birth announcements as well as news articles of the day.
This obituary for Gentry Floyd caught my attention. The 1870 Census listed a "John" Floyd – living in Tierra Amarilla, Rio Arriba County, New Mexico. It gives his age as 80 and states that he was born in Kentucky. (FamilySearchLabs.org)

This could be our "Gentry" Floyd. His obituary gives more details of his life and death.
That he was born in 1798 in Christian County, Kentucky; joined the Christian Church and was baptized by Alexander Campbell who founded that church. That he taught school at the Indian Pueblo.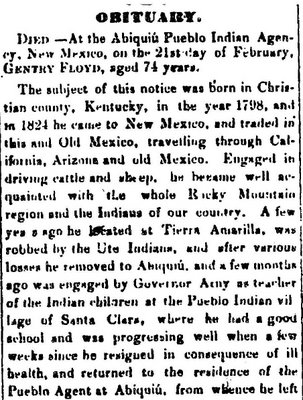 .
(Visited 55 times, 1 visits today)