Introduction: In this article, Mary Harrell-Sesniak expands on her earlier article about Civil War letters published in newspapers by sharing some additional Civil War research resources and tips. Mary is a genealogist, author and editor with a strong technology background.

A recent GenealogyBank Blog article of mine discussed personal communications of the Civil War period (see: Civil War Newspaper Research: Personal Notices & Letters). Desperate families crossed enemy lines, sent letters via flags of truce, or – more safely – exchanged messages via newspapers, especially when a loved one had become a prisoner of war.
The importance of these Civil War letters published in newspapers should not be discounted, because in many cases they are the only record of a person's experience during the war, if not their military involvement.
Along with those old newspaper letters, there are other Civil War resources to help genealogists with their family history research. Here are some additional considerations for searching Civil War records.
Searching for Civil War Soldiers
When searching for Civil War records, the first stop for many is the National Park Service Soldiers and Sailors Database.
Many early American military records are to be found in this database. This is a wonderful resource – but as with all genealogical military databases, it's nearly impossible for it to be complete. During periods of upheaval, many records go astray or were lost for many reasons.
What Happened to Lucien Wheatly?
One Civil War soldier I could not locate in the Soldiers and Sailors Database is Lucien Wheatly of the Sixth Regiment Cavalry.
A letter in the Richmond Enquirer reported that nothing had been heard from him since 17 December 1863. The writer, who was not fully identified, reported that Wheatly was a prisoner of war at a prison called "Scott's Factory," but thought he might have been sent away.

This is an extremely important citation, because it pinpoints the soldier's last known location. However, scant information is available on this prison. The website Civil War Richmond states it existed from 1862 to 1864 and that its location has never been determined.
Whenever you cannot locate a historical place, search GenealogyBank's Historical Newspaper Archives. I did an archives search, and found that there are only a few clues – but this one is important: Scott's Factory was reportedly four or five miles from Smithfield.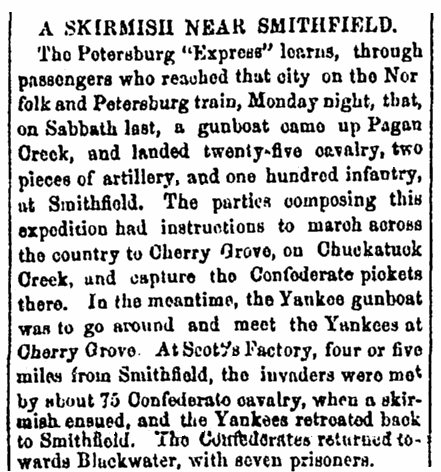 By triangulating the references in the old newspaper article (Chuckatuck Creek, Cherry Grove & Smithfield), a diligent researcher could possibly solve the prison's location mystery, or at least narrow the possibilities. Perhaps someone more proficient in Virginia geography could use these clues to find Scott's Factory. Google Maps shows Chuckatuck Creek to be about 12 miles south of Smithfield, and since the Union gunboat was to "go around and meet the Yankees at Cherry Grove," perhaps one should follow the water routes.
Follow-up Searches for Lucien Wheatly
Whenever you can't find an ancestor you're researching, always perform a follow-up search using alternative dates. It's not clear if there was more than one Lucien Wheatly, but I did locate the name twice in GenealogyBank's collections, and also in several Web references.
Sanitary Inspector referenced in the 1890 Congressional Directory. Lived at 921 G Street N.W. (see Serial Set Vol. No.2819; 3 December 1890, Report: S.Misc.Doc. 9)
Cashier at an Illinois bank in 1892 (see Daily Illinois State Register (Springfield, Illinois), 26 May 1892, page 6)
Sales Representative from Chicago in 1911 (see The Thomas Edison Papers at Rutgers)
Follow the Letter Reprints
When a letter was published in old newspapers, there was often a reference to "please copy" elsewhere. This is a good clue that the subject of the letter had connections to the place indicated. Note that the letter concerning Lucien Wheatly shown above concluded:
Any one knowing his [Wheatly's] whereabouts will confer a great favor on his friends by addressing, by personal in the Richmond Enquirer, J. & B. D., Daily News office.
As noted in that missing person ad from 1864, the Southern newspaper Richmond Enquirer and the Northern newspaper New York Daily News often exchanged reports. That exchange enabled soldiers' families in both the South and the North to place ads that would be seen in the other region.
This exchange is explicitly referred to in this article from the Richmond Enquirer, which mentioned that the New York Daily News recently printed 96 personals, first published in the Richmond Enquirer, that were addressed to persons in the North. That same historical news article reprinted ads from the New York Daily News from Northerners trying to reach family in the South. Here is one from "Jack" intended for an Edward Huntley in Richmond.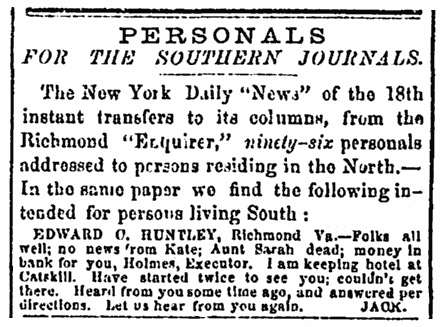 The message from Jack is intriguing because it reports an inheritance. Jack, whose surname was withheld to maintain anonymity, let Edward C. Huntley know how to collect his share from Aunt Sarah's estate. Holmes was the executor. Jack shared a reference to where he was in the Catskills and mentioned he had tried to reach Richmond twice, but was unable.
Here is another old newspaper ad from a Northerner, first printed in the New York Daily News and reprinted in the Richmond Enquirer. In this ad, the mother of Samuel Livingston was seeking information about her missing son. We learn from this ad Samuel's rank, company and regiment. The ad also makes reference to a Colonel Moore who was wounded and left on the battlefield at Oloustee [Olustee], Florida. According to research on the battle, this was Col. Henry Moore.

Livingston appears in the National Park Service Soldiers and Sailors Database as follows.
Genealogy Search Tips
Assume that every database is incomplete or has mistakes.
Use historical newspapers to fill in the blanks – and when you solve a puzzle, be sure to share it with others.
If a paper mentions "please copy," there is always a personal connection. The person may have lived, worked or served in that place, a relative may live there, or there could be another possibility that you have not yet considered.
Not every publication will report that a piece was copied (i.e., reprinted), so look to see if it exists elsewhere. Sometimes the information will have been changed or have additions.
During the Civil War period, we often encounter scanning issues with the early newspapers. As fortunate as we are that they survived, some text may be smeary or split across two lines, so a search engine may misread it.
Don't assume relationships unless specified. Mrs. Samuel Livingston could have been a wife, daughter, in-law or other relation; we only know for certain because her ad says that any news "will be most thankfully received by his mother."
Always perform a follow-up search using alternate dates. Also, vary a person's name by title and name abbreviations.
Follow location trails. Many battle parks and Civil War prison sites would be thrilled to add to their list of soldiers and sailors.
Map your ancestor's movements. Think about known routes via land or water if they went to visit relatives, and consider military and troop movements.
Enrich your genealogical experience by taking a road trip. You may find that this experience adds an important component to your knowledge.
As an exercise, search for related names and events in the Soldiers and Sailors Database. For example, there is quite a bit of information on the 47th New York Regiment in which Samuel Livingston served.
As an exercise, see how many prisoner of war reports you can find and reconnect to their family. Each one has a story, such as the example below about William Kean who was captured on 17 June 1864 while on picket duty. One can only imagine how that came about.

Researching your Civil War ancestor? There are many good Civil War genealogy resources available online. Be sure to include old newspapers, such as those in GenealogyBank's Historical Newspaper Archives. In some cases, you may find that the clue you're searching for about your ancestor never appeared in a government record – but was contained in a letter a loved one had printed in a newspaper in a desperate attempt to get news about a missing son or husband. Their hunt for information may be just what you need for your own searches!
Related Civil War Articles: