It's a great day for genealogy. There are only a small handful of Internet sites that are putting up sharp, clear digital images of genealogical records, the kind of resources that genealogists want to use and will rely on for their research.

FamilySearchLabs has been doing just that. They have just added Cook County (IL) Marriage Records from 1900 to 1920 and announced that they will expand these back further to 1871. Cook County – is more than just Chicago – it includes the townships of Barrington, Berwyn, Bloom, Bremen, Calumet, Cicero, Elk Grove, Evanston, Hanover, Lemont, Leyden, Lyons, Maine, New Trier, Niles, Northfield, Norwood Park, Oak Park, Orland, Palatine, Palos, Proviso, Rich, River Forest, Riverside, Schaumburg, Stickney, Thornton, Wheeling, Worth.

Here is a typical example: the marriage certificate of Wyatt Nelson Cronk (1877-1976) to Agnes Brunnell Garcelon (1876-1962). They were married in Oak Park, Cook County, Illinois on 28 March 1908.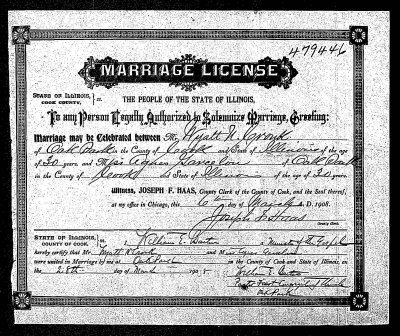 (Visited 135 times, 1 visits today)