Cheers to life, liberty and the pursuit of happiness—and to our brave American ancestors who fought for our freedom! Amidst the festivities and fireworks of this 4th of July holiday, take time to remember those heroic American revolutionaries that came before us, boldly paving the paths for our futures.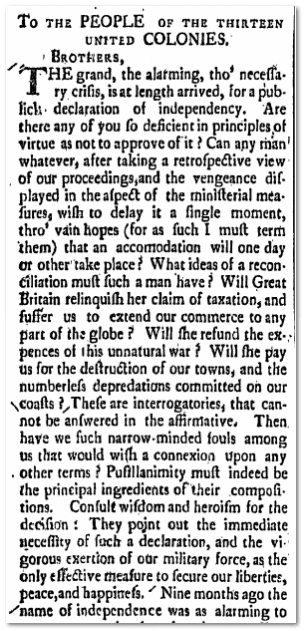 GenealogyBank is one of the best online resources available to trace your family history back to your American Colonial and Revolutionary roots. Our historical archives contain hundreds of thousands of articles from the Colonial and Revolutionary periods. Many of these records from the 1600s and 1700s are exclusive to our online collections, making GenealogyBank a prime location to explore your early American ancestry.
Happy 4th of July, 2013, to all our fellow Americans! Raise your head, your flag, your glass and salute each other and our ancestors. Dig into GenealogyBank's genealogy records and discover the early American heroes in your family tree.
To read the above historical newspaper article about the Declaration of Independence in full, visit To The People of the Thirteen Colonies.