GenealogyBank is the best source for early US newspapers on the planet.
Last week I wrote about digging in GenealogyBank and finding articles about my early American ancestors in Maine.



I had found family death and marriage announcements – this week I kept digging for more information about William Garcelon (1763-1851) his wife Maria (Harris) Garcelon (1763-1850) and his father Sea Captain James Garcelon (1739-1813) – and I found it!

Wow – in GenealogyBank I found this article from the Maine Gazette 22 July 1799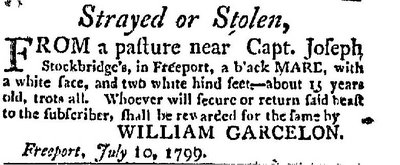 reporting that William Garcelon lost a horse in 1799 – "a black mare, with a white face and two white hind feet, about 15 years old" – it adds the key fact that he was living in Freeport, Maine in 1799.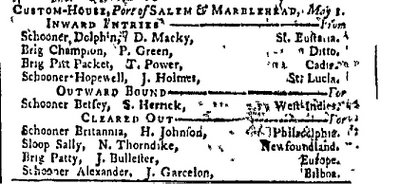 Looking further I found a shipping article in the Essex (MA) Gazette (1769) stating that [Captain] J[ames] Garcelon had set sail on the Schooner Alexander for Bilbao, [Spain].
By family tradition we knew that he was a sea captain but here was proof and details of this voyage in 1769 – just 10 years after he had settled in America.
__________________________________________________
Wow – A newspaper published in 1769?

I didn't know that newspapers that old had survived – let alone that they were digitized and easily searchable online.

Tip: GenealogyBank has old newspapers going back to 1690 – easy to search, read, print and save!
___________________________________________________
Then in the 25 Feb 1811 issue of the Maine Gazette was the advertisement that James Garcelon's farm was for sale. It gives a terrific description: 150 acres, 20 of them wooded, "handsome young orchard", a "very pleasantly situated" two story house and more. Wow, you could almost picture the property.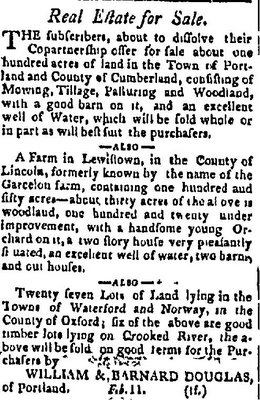 Why was James Garcelon (1739-1813) selling his home and property?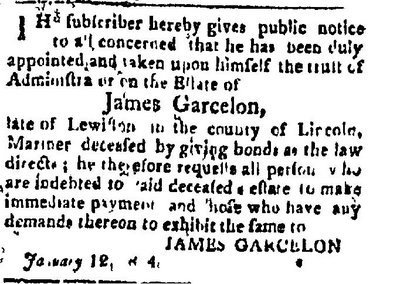 Were he and his wife, Deliverance (Annis) Garcelon (1735-1828), moving in with one of his children? At age 72, had he become infirm and unable to manage the property? Probably so.

We get another clue from the probate notice in the 24 Jan 1814 Maine Gazette.

Sea Captain James Garcelon had died 17 November 1813. His son [Rev.] James Garcelon was the executor.
____________________________________
Tip: GenealogyBank is a goldmine.
No other source has this many early US newspapers.
Only newspapers give this level of detail about the lives of Colonial Americans.
Wow – over 3,700 newspapers – the best newspaper site on the planet.
Search GenealogyBank now.
What will you find? _____________________________________________________
(Visited 84 times, 1 visits today)