GenealogyBank is your best source for finding old marriage records.
Newspapers regularly published marriage announcements – like this one from the Weekly Pelican (New Orleans, LA) 26 Oct 1889.
Whether you're looking for a wedding announcement published in 1802, 1862 or 1962 –
GenealogyBank
is your most comprehensive source.
TIP: Focus your search by the type of article.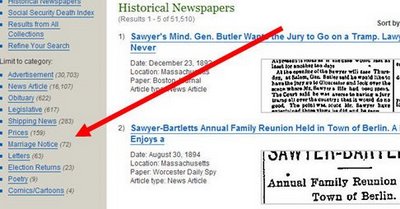 In this example in the Historical Newspapers section – limit your search to only the marriage notices. Click on the highlighted topic and only the wedding and marriage announcement articles will appear in your search – saving you time.
Find and document your ancestors in
GenealogyBank
– the best source for old newspapers & documents on the planet.

Period!