Here is some good news for genealogy researchers exploring their German ancestry. GenealogyBank is expanding its coverage of German American newspapers. In the next few weeks it will be adding another 941 back issues of the Erie Tageblatt, a German-language newspaper published in Erie, Pennsylvania. These additional issues will expand our digital archive of this German-language newspaper in the early 20th century, pushing its coverage up to 1907.
GenealogyBank's coverage of French, Spanish, and German newspapers provides a genealogical resource with many obituaries, birth notices and marriage announcements to help you research your immigrant ancestors.
Charlotte Gitel's obituary from 1907 is a good example of the detailed information found in a newspaper written for the German American community.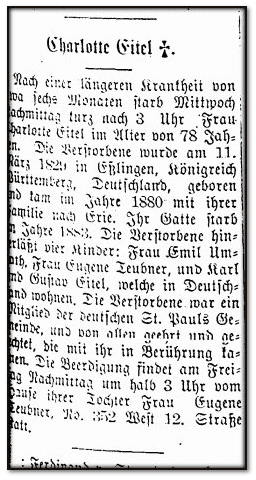 Genealogy Tip: Look for Symbols
Notice that the old newspaper puts a cross next to the name of the deceased to call attention that this is an obituary article. Newspapers across the country still use these small symbolic devices, such as a flag to show that a person was a veteran, or a fraternal order symbol, to make it easy for their readers to spot articles that might be of special interest to them.
(Visited 65 times, 1 visits today)