Today Illinois celebrates the 195th anniversary of its statehood—the "Prairie State" was admitted into the Union on 3 December 1818 as the 21st state. The date on the official state seal, 26 August 1818, commemorates the adoption of Illinois' first constitution that paved the way for statehood.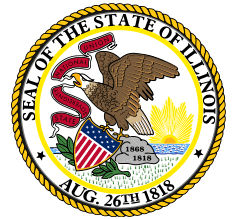 If you are researching your family roots in Illinois, you will want to use GenealogyBank's online Illinois newspaper archives: 339 titles to help you search your family history in the "Land of Lincoln," providing coverage from 1818 to Today.
Dig in and search for obituaries and other news articles about your ancestors in these recent and historical IL newspapers online:
Search Illinois Newspaper Archives (1818 – 2010)
Search Illinois Recent Obituaries (1985 – Today)
Do you research your Illinois ancestry frequently? Download the PDF version of our Illinois newspaper list by clicking on the graphic below and save the file locally on your computer. Whenever you are ready to start researching your genealogy in the archives, simply click on the newspaper name (in blue) to go directly to your newspaper title of interest at GenealogyBank.
Have a blog or website? Use the embed code below to share our list with your visitors.
Here is our complete list of online Illinois newspapers, divided into two collections: Historical Newspapers (complete paper) and Recent Obituaries. Each newspaper title in this list is an active link that will take you directly to that paper's search page, where you can begin searching for your ancestors by surnames, dates, keywords and more.
Discover your family's story in a variety of genealogy records and news stories in these 62 Illinois historical newspapers, listed alphabetically by city:
Search recent obituary records for your relatives in these 277 Illinois newspapers, listed alphabetically by city:
Argus-Sentinel

(Abingdon, Avon, St. Augustine) 4/14/2011 – Current

Addison Press

(Addison) 2/15/2007 – Current

Times Record

(Aledo) 3/5/2009 – Current

Algonquin Countryside

(Algonquin) 1/9/1997 – 11/15/2006

Algonquin Countryside with News of Lake in the Hills

(Algonquin) 11/23/2006 – 11/20/2008

Antioch Review

(Antioch) 5/21/1998 – 4/14/2011

Daily Herald

(Arlington Heights) 3/7/1995 – Current

Arlington Heights Journal

(Arlington Heights) 1/12/2011 – Current

Arlington Heights Post

(Arlington Heights) 1/9/1997 – 3/10/2011

Eagle-Scribe

(Augusta) 4/14/2011 – Current

Beacon News

(Aurora) 1/1/1997 – Current

Beacon News, The: Web Edition Articles

(Aurora) 3/28/2012 – Current

Barrington Courier-Review

(Barrington) 2/22/1996 – Current

Bartlett Press

(Bartlett) 2/15/2007 – Current

Batavia Republican

(Batavia) 2/15/2007 – Current

Sun, The: Batavia

(Batavia) 9/4/2002 – 5/5/2010

Belleville Journal

(Belleville) 10/20/2004 – 8/28/2005

Belleville News-Democrat

(Belleville) 10/17/2000 – Current

Belleville News-Democrat: Blogs

(Belleville) 5/22/2009 – Current

St. Clair County Journal

(Belleville) 11/24/2004 – 8/31/2011

Bensenville Press

(Bensenville) 3/14/2007 – Current

Benton Evening News

(Benton) 2/18/2001 – 11/15/2011

Berkeley Suburban Life

(Berkeley) 4/14/2007 – Current

Berwyn Life

(Berwyn) 1/22/2008 – Current

Bloomingdale Press

(Bloomingdale) 1/22/2008 – Current

Pantagraph

(Bloomington) 10/1/1989 – Current

Reporter

(Bolingbrook) 2/23/2007 – Current

Sun, The: Bolingbrook

(Bolingbrook) 9/6/2002 – 3/19/2010

Braidwood Journal

(Braidwood) 2/1/2007 – Current

Broadview Suburban Life

(Broadview) 3/6/2007 – Current

Brookfield Suburban Life

(Brookfield) 2/23/2007 – Current

Buffalo Grove Countryside

(Buffalo Grove) 1/2/1997 – Current

Buffalo Grove Journal

(Buffalo Grove) 12/30/2010 – Current

Burr Ridge Suburban Life

(Burr Ridge) 2/20/2007 – Current

Doings

(Burr Ridge, Darien, Willowbrook) 4/28/2005 – Current

Cambridge Chronicle

(Cambridge) 1/1/2010 – Current

Daily Ledger

(Canton) 10/5/2009 – Current

Southern Illinoisan

(Carbondale) 2/11/2002 – Current

Carmi Times

(Carmi) 10/22/2009 – Current

Carol Stream Examiner

(Carol Stream) 4/6/2011 – Current

Carol Stream Press

(Carol Stream) 1/22/2008 – Current

Hancock County Journal-Pilot

(Carthage) 6/21/2000 – Current

Cary Grove Countryside

(Cary Grove) 8/27/1998 – 3/10/2011

IlliniHQ

(Champaign) 3/25/1998 – Current

News-Gazette

(Champaign, Urbana) 6/2/1997 – Current

News-Gazette, The: Web Edition Articles

(Champaign, Urbana) 2/10/2003 – Current

Times-Courier

(Charleston) 4/13/2004 – Current

Randolph County Herald Tribune

(Chester) 4/30/2009 – 10/27/2011

Chicago Citizen

(Chicago) 11/5/2008 – Current

Chicago Crusader

(Chicago) 11/26/2011 – Current

Chicago Defender

(Chicago) 4/9/2008 – Current

Chicago Journal

(Chicago) 9/30/2009 – Current

Chicago Sun-Times

(Chicago) 1/1/1986 – Current

Chicago Sun-Times: Blogs

(Chicago) 2/20/2008 – Current

Chicago Sun-Times: Web Edition Articles

(Chicago) 3/26/2012 – Current

Chicago Tribune

(Chicago) 1/1/1985 – Current

Chicago Tribune RedEye Edition

(Chicago) 10/30/2002 – Current

Chillicothe Times-Bulletin

(Chillicothe) 11/3/2009 – Current

Daily Southtown

(Chicago) 7/31/2004 – 11/17/2007

Extra

(Chicago) 3/25/2011 – Current

Hyde Park Herald

(Chicago) 1/6/2010 – Current

Skyline

(Chicago) 12/8/2005 – 12/6/2007

Cicero Life

(Cicero) 2/13/2007 – Current

Clarendon Hills Suburban Life

(Clarendon Hills) 3/13/2007 – Current

Doings

(Clarendon Hills) 4/28/2005 – Current

Coal City Courant

(Coal City) 2/1/2007 – Current

Collinsville Herald

(Collinsville) 10/20/2004 – Current

Clarion Journal

(Columbia) 10/20/2004 – 8/31/2011

Booster

(Cook County) 12/3/2007 – 1/9/2008

Northwest Herald

(Crystal Lake) 1/1/2005 – Current

Commercial-News

(Danville) 11/6/2007 – Current

Darien Suburban Life

(Darien) 1/22/2008 – Current

Herald & Review

(Decatur) 3/19/1990 – Current

Deerfield Review

(Deerfield) 1/9/1997 – Current

Daily Chronicle

(DeKalb) 8/16/2000 – Current

Des Plaines Journal

(Des Plaines) 12/28/2010 – Current

Des Plaines Times

(Des Plaines) 12/12/1996 – 12/24/2008

Edgebrook Times Review

(Des Plaines) 1/16/1997 – 1/24/2008

Mount Prospect Journal

(Des Plaines) 1/12/2011 – Current

Rosemont Journal

(Des Plaines) 12/31/2010 – Current

Sauk Valley Newspapers

(Dixon) 10/13/2009 – Current

Downers Grove Reporter

(Downers Grove) 1/22/2008 – Current

Sun

(Downers Grove) 9/5/2002 – 2/4/2010

Du Quoin Evening Call

(Du Quoin) 10/5/2009 – Current

Cahokia-Dupo Journal

(Dupo) 10/20/2004 – 8/31/2005

East Dubuque Register

(East Dubuque) 1/24/2003 – 7/1/2011

East St. Louis Journal

(East St. Louis) 10/20/2004 – 8/17/2005

News-Star

(Edgewater) 11/16/2005 – 1/9/2008

Edwardsville Intelligencer

(Edwardsville) 7/4/2000 – Current

Edwardsville Journal

(Edwardsville) 10/20/2004 – 10/8/2008

Effingham Daily News

(Effingham) 9/19/2005 – Current

Elburn Herald

(Elburn) 10/9/2008 – Current

Courier News

(Elgin) 7/4/1998 – Current

Courier News: Web Edition Articles

(Elgin) 3/27/2012 – Current

Elk Grove Times

(Elk Grove) 3/19/1998 – 1/15/2009

Elk Grove Journal

(Elk Grove Village) 1/12/2011 – Current

Doings

(Elmhurst) 4/28/2005 – 4/14/2011

Elmhurst Press

(Elmhurst) 1/22/2008 – Current

Elm Leaves

(Elmwood Park) 1/1/1997 – Current

Evanston Now

(Evanston) 3/10/2008 – Current

Evanston Review

(Evanston) 1/9/1997 – Current

Clay County Advocate-Press

(Flora) 8/5/2008 – Current

Forest View Life

(Forest View) 2/20/2007 – Current

Franklin Park Herald-Journal

(Franklin Park) 1/1/1997 – 11/8/2006

Franklin Park Herald-Journal with News of North Lake

(Franklin Park) 11/15/2006 – Current

Journal-Standard

(Freeport) 12/14/2002 – Current

Paper

(Galesburg) 1/26/2011 – Current

Register-Mail

(Galesburg) 1/5/1999 – Current

Galva News

(Galva) 12/30/2009 – Current

Geneseo Republic

(Geneseo) 12/17/2009 – Current

Geneva Republican

(Geneva) 2/20/2007 – Current

Kane County Chronicle

(Geneva) 12/10/2005 – Current

Sun, The: Geneva-Elburn

(Geneva) 10/9/2002 – 12/29/2004

Glen Ellyn News

(Glen Ellyn) 2/13/2007 – Current

Sun, The: Glen Ellyn

(Glen Ellyn) 12/24/2004 – 5/7/2010

Glencoe News

(Glencoe) 1/9/1997 – Current

Glendale Heights Press

(Glendale Heights) 2/15/2007 – Current

Glenview Announcements

(Glenview) 1/9/1997 – Current

Glenview Journal

(Glenview) 1/12/2011 – Current

Granite City Press-Record

(Granite City) 10/20/2004 – Current

Grayslake Review

(Grayslake) 2/13/1997 – 4/14/2011

Lake County Journal

(Grayslake) 11/1/2008 – Current

Gurnee Review

(Gurnee) 2/13/1997 – 4/14/2011

Hanover Park Press

(Hanover Park) 2/15/2007 – Current

Times

(Harlem, Irving) 11/4/2004 – 1/24/2008

Harrisburg Daily Register

(Harrisburg) 11/4/1996 – Current

Harvard Main Line

(Harvard) 1/7/2011 – Current

Norridge News

(Harwood Heights) 1/9/1997 – Current

Spokesman

(Herrin) 2/24/2011 – Current

Highland Park News

(Highland Park) 1/9/1997 – Current

Hillside Suburban Life

(Hillside) 2/26/2007 – Current

Proviso Herald

(Hillside) 11/15/2006 – 3/10/2011

West Proviso Herald

(Hillside) 1/1/1997 – 11/8/2006

Doings

(Hinsdale) 4/28/2005 – Current

Hinsdale Suburban Life

(Hinsdale) 1/22/2008 – Current

Hodgkins Suburban Life

(Hodgkins) 4/12/2007 – Current

Hoffman Estates Review

(Hoffman Estates) 1/1/1998 – 12/25/2008

Sun, The: Homer Township-Lockport-Lemont

(Homer, Lemont, Lockport) 9/4/2002 – 4/28/2010

Farmside

(Huntley) 3/23/2007 – Current

Indian Head Park Suburban Life

(Indian Head Park) 2/23/2007 – Current

Itasca Press

(Itasca) 1/22/2008 – Current

Times

(Jefferson Park, Portage Park, Belmont Cragin) 11/4/2004 – 1/24/2008

Herald News

(Joliet) 1/2/1997 – Current

Star-Courier

(Kewanee) 10/16/2009 – Current

La Grange Park Suburban Life

(La Grange Park) 1/22/2008 – Current

Doings

(La Grange, La Grange Park, La Grange Highlands) 4/28/2005 – Current

NewsTribune

(La Salle) 9/24/1997 – Current

Lake Forester

(Lake Forest) 1/16/1997 – Current

Booster

(Lake View, North Center, Roscoe Village, Avondale) 12/21/2005 – 11/7/2007

Lake Villa Review

(Lake Villa) 2/13/1997 – 4/14/2011

Lake Zurich Courier

(Lake Zurich) 1/16/1997 – Current

Lake in the Hills Countryside

(Lake in the Hills) 7/10/2003 – 11/9/2006

Lemont Reporter Metropolitan

(Lemont) 1/22/2008 – Current

Libertyville Review

(Libertyville) 1/9/1997 – Current

Courier

(Lincoln) 1/29/2000 – Current

Lincolnshire Review

(Lincolnshire) 6/29/2000 – Current

Lincolnwood Review

(Lincolnwood) 1/16/1997 – Current

Lisle Reporter

(Lisle) 1/22/2008 – Current

Sun, The: Lisle

(Lisle) 9/13/2002 – 5/7/2010

Lombard Spectator

(Lombard) 1/22/2008 – Current

Lyons Suburban Life

(Lyons) 2/20/2007 – Current

Macomb Journal

(Macomb) 2/4/2000 – Current

McDonough County Voice

(Macomb) 10/9/2009 – Current

Marion Daily Republican

(Marion) 10/5/2009 – Current

Journal Gazette

(Mattoon) 4/13/2004 – Current

JG-TC

(Mattoon, Charleston) 9/26/2011 – Current

Maywood Herald

(Maywood) 1/1/1997 – 11/8/2006

McCook Suburban Life

(McCook) 4/5/2007 – Current

Times-Leader

(McLeansboro) 1/21/2006 – Current

Melrose Park Herald

(Melrose Park) 1/1/1997 – 11/8/2006

Woodford Times

(Metamora, Eureka) 6/29/2010 – Current

Millstadt-Smithton Enterprise

(Millstadt, Smithton) 10/24/2004 – 3/26/2008

Daily Review Atlas

(Monmouth) 10/5/2009 – Current

Morris Daily Herald

(Morris) 3/8/2006 – Current

Morton Times-News

(Morton) 12/17/2009 – Current

Morton Grove Champion

(Morton Grove) 1/9/1997 – Current

Daily Republican Register

(Mount Carmel) 10/12/1999 – Current

Mount Prospect Times

(Mount Prospect) 1/9/1997 – 12/18/2008

Register-News

(Mount Vernon) 11/13/2007 – Current

Mundelein Review

(Mundelein) 1/9/1997 – Current

Murphysboro American

(Murphysboro) 3/5/2009 – Current

Naperville Reporter

(Naperville) 2/27/2007 – Current

Naperville Sun

(Naperville) 1/1/1997 – Current

Naperville Sun, The: Web Edition Articles

(Naperville) 4/8/2012 – Current

Sun, The: 60504 Fox Valley

(Naperville) 10/21/2002 – 4/7/2005

Sun, The: Lincoln-Way

(New Lenox) 12/4/2002 – 3/17/2004

Newton Press Mentor

(Newton) 7/25/2005 – Current

Bugle

(Niles) 8/18/2011 – Current

Niles Herald-Spectator

(Niles) 1/9/1997 – Current

Niles Journal

(Niles) 1/12/2011 – Current

North Riverside Suburban Life

(North Riverside) 1/22/2008 – Current

Northbrook Star

(Northbrook) 1/16/1997 – Current

Northlake Herald-Journal

(Northlake) 1/1/1997 – 10/18/2006

Edison-Norwood Times Review

(Northwest Chicago) 1/9/1997 – 4/14/2011

O'Fallon Journal

(O'Fallon) 10/27/2004 – Current

O'Fallon Progress

(O'Fallon) 9/26/2008 – Current

Countryside Suburban Life

(Oak Brook) 1/22/2008 – Current

Oak Brook Suburban Life

(Oak Brook) 1/22/2008 – Current

Doings

(Oak Brook, Oakbrook Terrace) 4/28/2005 – Current

Austin Weekly News

(Oak Park) 2/16/2005 – Current

Forest Park Review

(Oak Park) 1/28/2005 – Current

Oak Leaves

(Oak Park) 1/1/1997 – Current

Wednesday Journal of Oak Park & River Forest

(Oak Park) 12/1/2004 – Current

Oakbrook Terrace Press

(Oakbrook Terrace) 1/22/2008 – Current

Olney Daily Mail

(Olney) 10/5/2009 – Current

Ogle County Newspapers

(Oregon) 12/17/2009 – Current

Orion Gazette

(Orion) 12/17/2009 – Current

Palatine Countryside

(Palatine) 1/9/1997 – 1/15/2009

Palatine Journal

(Palatine) 12/30/2010 – Current

Park Ridge Herald-Advocate

(Park Ridge) 1/23/1997 – Current

Park Ridge Journal

(Park Ridge) 1/12/2011 – Current

Pekin Daily Times

(Pekin) 10/8/2009 – Current

East Peoria Times-Courier

(Peoria) 11/25/2009 – Current

Peoria Journal Star

(Peoria) 7/15/1991 – Current

Peoria Times-Observer

(Peoria) 2/19/2008 – Current

Sun, The: Plainfield

(Plainfield) 12/13/2002 – 11/20/2009

Daily Leader

(Pontiac) 3/26/2009 – Current

Bureau County Republican

(Princeton) 10/2/2009 – Current

Prospect Heights Journal

(Prospect Heights) 1/12/2011 – Current

Forest Leaves

(River Forest) 1/1/1997 – Current

River Grove Messenger

(River Grove) 1/1/1997 – 11/21/2007

Riverside Suburban Life

(Riverside) 1/22/2008 – Current

Riverside-Brookfield Landmark

(Riverside, Brookfield) 1/24/2005 – Current

Rock Island News

(Rock Island) 4/29/2007 – 4/20/2008

Rockford Register Star

(Rockford) 1/1/1999 – Current

Rolling Meadows Journal

(Rolling Meadows) 10/14/2011 – Current

Rolling Meadows Review

(Rolling Meadows) 1/9/1997 – 12/11/2008

Romeoville Reporter

(Romeoville) 1/22/2008 – Current

Roselle Press

(Roselle) 1/22/2008 – Current

Roseville Independent

(Roseville) 4/14/2011 – Current

Winfield Press

(Saint Charles) 1/22/2008 – Current

Valley Free Press

(Sandwich) 6/21/2006 – Current

Schaumburg Review

(Schaumburg) 1/16/1997 – 12/11/2008

Daily Union

(Shelbyville) 12/10/2007 – Current

Shorewood Sentinel

(Shorewood) 6/13/2011 – Current

Skokie Review

(Skokie) 1/16/1997 – Current

Illinois Times

(Springfield) 7/24/2003 – Current

State Journal-Register

(Springfield) 7/3/1985 – Current

St. Charles Republican

(St. Charles) 1/22/2008 – Current

Sun, The: St. Charles-South Elgin

(St. Charles) 8/20/2003 – 5/20/2009

Stickney Life

(Stickney) 1/22/2008 – Current

Streamwood Press

(Streamwood) 1/22/2008 – Current

Midweek

(Sycamore) 4/3/2006 – Current

Breeze-Courier

(Taylorville) 7/3/2000 – Current

Teutopolis Press

(Teutopolis) 5/7/2009 – Current

SouthtownStar

(Tinley Park) 9/1/2002 – Current

SouthtownStar: Web Edition Articles

(Tinley Park) 3/27/2012 – Current

STAR

(Tinley Park) 1/1/2004 – 11/11/2007

Vandalia Leader-Union

(Vandalia) 1/19/2011 – Current

Vernon Hills Review

(Vernon Hills) 1/9/1997 – Current

Villa Park Argus

(Villa Park) 1/22/2008 – Current

Warrenville Press

(Warrenville) 1/22/2008 – Current

Washington Times-Reporter

(Washington) 11/25/2009 – Current

Wauconda Courier

(Wauconda) 4/15/2004 – 8/15/2008

Lake County News-Sun

(Waukegan) 1/1/1997 – Current

Lake County News-Sun: Web Edition Articles

(Waukegan) 3/26/2012 – Current

Wayne Republican

(Wayne) 1/22/2008 – Current

West Chicago Press

(West Chicago) 1/22/2008 – Current

Daily American

(West Frankfort) 2/14/2001 – Current

Westchester Herald

(Westchester) 1/1/1997 – 9/13/2006

Westchester Suburban Life

(Westchester) 1/22/2008 – Current

Western Springs Suburban Life

(Western Springs) 1/22/2008 – Current

Doings

(Western Springs, Indian Head Park) 4/28/2005 – Current

Westmont Progress

(Westmont) 1/22/2008 – Current

Wheaton Leader

(Wheaton) 1/22/2008 – Current

Sun, The: Wheaton

(Wheaton) 9/6/2002 – 8/27/2010

Wheeling Countryside

(Wheeling) 1/9/1997 – 1/19/2009

Wheeling Journal

(Wheeling) 1/12/2011 – Current

Booster

(Wicker Park, Bucktown, Ukranian Village) 1/11/2006 – 11/7/2007

Willow Springs Suburban Life

(Willow Springs) 1/22/2008 – Current

Willowbrook Suburban Life

(Willowbrook) 1/22/2008 – Current

Wilmette Life

(Wilmette) 1/9/1997 – Current

Free Press Advocate

(Wilmington) 2/1/2007 – Current

Winnetka Talk

(Winnetka) 3/20/1997 – Current

Wood Dale Press

(Wood Dale) 8/16/2007 – Current

Woodridge Reporter

(Woodridge) 1/22/2008 – Current

Woodstock Independent

(Woodstock) 6/2/2010 – Current