GenealogyBank is pleased to announce that it has the five-volume
List of Pensioners-1883
online, to help with your
family history
research. These U.S. federal government military pension records are a valuable genealogy resource actively used by genealogists to trace family lineage.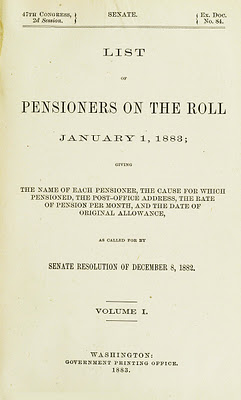 List of Pensioners on the Roll January 1, 1883; giving the name of each pensioner, the cause for which pensioned, the post office address, the rate of pension per month, and the date of original allowance. Washington, D.C.: Government Printing Office, 1883. Senate Document. Serial Set Vol. No. 2078, Session Vol. No. 5; Report: S.Exec.Doc. 84 pt. 1-5.

The List of Pensioners-1883 lists the pensioners by U.S. state and county. Volume 5 includes the lists of pensioners that lived overseas.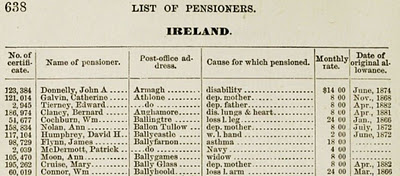 List of Pensioners on the Roll. January 1, 1883…Vol. 5, page 638.
Each military pension record entry gives:
· Name of pensioner
· Pension certificate number
· Date of the original pension
· Reasons why the pensioner received the pension
· The monthly pension payment
· U.S. Post Office where the pensioner receives their mail
Types of military pension records included:
· Veteran disability pension records
· Army pension records
· Navy pension records
· War widows pension records
· War orphans pension records
Genealogy Tip: This is a crucial genealogical resource for identifying pensioners from all American wars still living in 1883 and it pinpoints where they were living—anywhere in the U.S. or around the world. This extensive U.S. military pension list includes pensioners from the War of 1812, the Mexican-American War, the Civil War, and more—making it easier to trace your veteran ancestors and relatives who received survivor benefits.
Volume One
Connecticut; District of Columbia; Maine; Massachusetts; New Hampshire; New Jersey; Rhode Island; Vermont
Volume Two
New York; Pennsylvania
Volume Three
Illinois; Iowa; Ohio
Volume Four
Alaska; Arizona; California; Colorado; Dakota; Idaho; Indiana; Kansas; Michigan; Minnesota; Montana; Nebraska; Indian Territory (Oklahoma); Nevada; New Mexico; Oregon; Utah; Washington; Wisconsin; Wyoming
Volume Five
Alabama; Arkansas; Delaware; Florida; Georgia; Kentucky; Louisiana; Maryland; Mississippi; Missouri; North Carolina; South Carolina; Tennessee; Texas; Virginia; West Virginia
Countries of the World, including Hawaii (which was listed as the "Sandwich Islands.")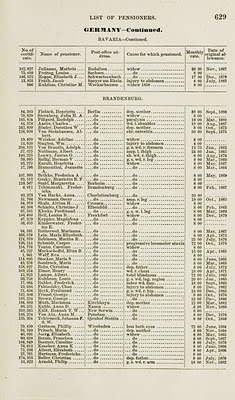 Africa; Austria; Belgium; Brazil; Denmark; England; France; Germany; Ireland; Italy; Madeira Island (Portugal); Malta; Mauritius; Mexico; Netherlands; New Zealand; Norway; Peru; Romania; Russia; Scotland; Spain; Sweden; Switzerland; Wales; West Indies; Foreign Address Unknown
Explore the List of Pensioners-1883 online at GenealogyBank and uncover your family's past today!